Introducing our newest children's safety product, The Swing Mat. Designed specifically to keep wood chips and pea gravel under your swing-set and slide where they belong, Swing Mats can improve safety of your back yard. Built from the same high-quality recycled materials as our other PlayGuard products, these mats are built to take a beating. Just loose-lay them beneath your swing-set and at the base of your sliding board and you're done. Mats are an inch and a half thick so they also provide fatigue relief for little knees and backs.
Swing mats are available in black and can lay directly over your playground surface. They are made of up to 92% recycled materials. As with all our products, they come with our 130% price-match guarantee.
Don't forget to like us on Facebook for an additional 5% discount off your purchase!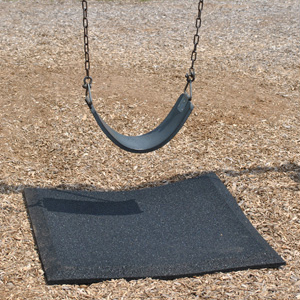 Greatmats.com provides rubber flooring for a number of different functions. Whether you need rubber flooring for a large commercial gym or you're looking for a couple area mats for the laundry room, they have what you need at the best possible prices. Be sure to recommend Greatmats.com to your friends and check in from time to time and keep checking our blog or Facebook page to keep up on great deals.
1-877-822-6622
www.greatmats.com