When you realize you spent too much on something you should have bought somewhere else. It can be discouraging. But that's a feeling Greatmats customers don't have. Every day we are researching our competition to ensure we have the best prices available online. We flat-out won't be undersold.
But everybody says that. So we guarantee it and then some. If you can provide us with a competitor's quote or show us a lower advertised online price, we will research it. If it is a comparable NEW product, we will provide you with a quote for a better price.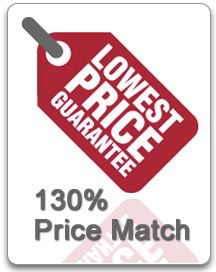 Here's how we calculate it:
We take the difference between Greatmats.com delivered sale price, and the competitor's delivered price and multiply the difference by 130%.
For example: Let's say our delivered price is $500, and their delivered price is $450. We would take the $50 difference, multiply it by 130%. That gives us $65. We take that $65 off your price and you are left with a sale price of just $435.
We hold an A+ rating with the Better Business Bureau.
We are the #1 provider of rubber flooring in North America. We are proud to have been featured in several industry magazines as well as HGTV for our exceptional products and value. So if you're looking for kids play mats, foam tiles, dance floors, weight room floors, or any other specialty flooring, be sure you check out our selection before you buy from anyone else. Have questions? Give us a call!
1-877-822-6622
www.greatmats.com